Why Have a Retreat?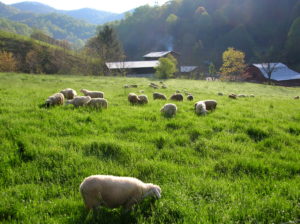 Homesteading and prepping center around living a life that is self-sustaining or having a focus on being in a secure location.  If you are new to the whole idea of disaster preparedness, it can be unsettling or at least, sound like the stuff of conspiracy theorists or cheap novels.  However, nearly every day you hear of another natural disaster, civil unrest, mass migration of refugees, or threats from terrorist groups pledging to destroy our American way of life.  The world in which we live is getting more uncertain by the day.  At the same time in the name of security, we Americans are witnessing our civil liberties erode.  We no longer object to wire taps or searches of our cell phone address books because that's how the "bad guys" are discovered, yet at the same time, we are giving up our privacy.  You are encouraged to read through our regular 
blog posts
 which provide a wealth of information on the subject.
Regardless of your political affiliation, we can all agree that our federal government is bloated beyond measure and our national, state, municipal, corporate and personal debt load is untenable.  Its only a matter of time before the "debt bomb" explodes and with it goes our economy.  On top of that, numerous senior government officials have openly addressed the frailty of our national power grid and how it would easily be possible to put large swaths of our country in the dark for months or more.  In late 2015, Emmy Award winner and respected news anchor Ted Koppel wrote an entire book on this matter.  Think for a moment what that would mean in an urban/suburban environment:  no electricity for lighting, water/sewer, communications, heating/cooling, medical care, banking.  Our civil society exists on a razor's edge, and one extended large scale disruption, be it due to a natural disaster, terrorist strike, or economic collapse is all it will take to send us over the edge.  When that happens, you need a place to run to, but waiting to decide until the last minute will be too late.  Now is the time to contact Retreat Realty to put your plans into action.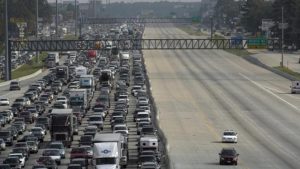 You've been thinking about it.  You've read some online articles.  You're seeing the nightly news reports.  Now is the time.  Don't be like those in the accompanying photo at left (Hurricane Rita evacuation) stuck in traffic trying to escape or herded into a FEMA emergency shelter. Plan ahead for the future by investing in a retreat property that can provide you and your family a hedge against future uncertainty by becoming more sustainable and living closer to the land, and be ready to "get out of Dodge".
What is a "Retreat" or "Prepper" Property?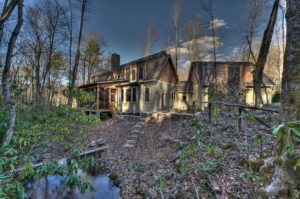 A retreat or homestead property is often referred to as a "
survival property
" or a "prepper property", but it is more than just 50 acres on a mountainside occupied by Grizzly Adams.  It can be a luxurious home that is off the beaten path or it may be a rustic homestead that is totally off the grid for someone who wishes to live a more sustainable lifestyle.  It should fit your lifestyle and family needs as much as possible, yet provide a level of security and independence that is greater than where you live now.  Here are the basic criteria for properties marketed by Retreat Realty.  Not every property will have every feature, but having a majority of these makes for a better retreat:
At least five acres of land to provide you privacy and room to roam.
Should be well outside the town limits of any sizable metropolitan area to avoid the movement of a large population that could become refugees.
Should have its own water source, either surface stream, springs, well and/or pond for storage. This is a must.
Should have a private septic system or other method of waste disposal. This is a must.
Should have a fuel source on the property such as a stand of timber, hydro, wind or large fuel tank.
Should have a modest amount of land available for the cultivation of vegetables and crops or livestock.
Should be "off the beaten path", meaning not within view of or close to a major thoroughfare.
Should not be encumbered by covenants and restrictions of a Property Owners Association, and should be relatively free of burdensome county zoning ordinances.
Should be within one tank of gas from your primary residence.
There are many other criteria to consider, all of which we can explain during your assessment.  You can start out small and grow into it later.  Or you can jump right in and set up a major family compound on Day One.  Call us to discuss your specific need and we'll help you along through the evaluation so that you can find the right place for you.  Once you've found your spot, we can assist you further with our knowledge of design, land use and preparedness procedures.  Don't go it alone.  Go with Retreat Realty.
Interested in touring properties?
While we enjoy meeting people and showing them our beautiful mountains, we have certain expectations of our clients, just as they have expectations of us. When you book a day with us, we expect you to be focused on looking at real estate. This means:
Getting started fairly early and going the entire day. Sometimes it may take 40 minutes to drive from one property to another.  It means being dressed to walk through fields and forests.
Leave young children or pets at home. When clients show up with children or dogs, it sends the message that they aren't too serious.  Children and pets require constant attention and reduce the effectiveness of the day.
Leave the driving to us! We will drive (unless it is physically impossible to fit everyone in to our small SUV's).  Why?  Because we want you to focus on the surroundings and not the curvy roads or following one of us. We use the drive time to discuss your needs and explain what you're seeing as we drive. In our small SUV's we can get in and out of tight, hard to reach off-road places.  You're big Ford F-150 may have more towing capacity, but it can't maneuver like a BMW X3.
Hang up the phone (mostly). We know you need to stay in touch with the office or take an urgent call from a child, but constant phone interruptions are just rude and a distraction. We do not take incoming calls when we are with clients, unless it has to do with a specific property showing or a family emergency. We do so out of respect for you, so please do the same.
Be honest with us as to your budget and timing. We do not expect most people to purchase something on the first visit, but its important to know if you are one month, three months or twelve months out before making a purchase.
If you are working with another real estate agent, please let us know up front. We gladly cooperate with other agents, but if you are, then we are going to ask, "Why hasn't that agent come along and doing his/her job?"  We invest a great deal of time in preparation for property tours, so if you follow the above advice, your experience will be most productive and we'll come away feeling appreciated.
Who is John Haynes?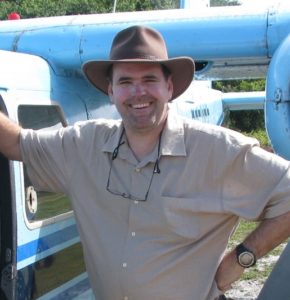 Owner/Founder, John Haynes has been a licensed NC real estate broker since 1997 being involved in all facets of real estate since 1987 when he started in the appraisal business.  Over the years, he has personally developed five successful subdivisions including one of 900 acres in western North Carolina.  In recent years, while working in the jungles of Guyana, South America on a 34,000 acre project, John saw the United States from a different vantage point and as a result, he became concerned about its leadership, the direction of its economy and the instability of the dollar.  Being good friends with others involved in a large NGO specializing in disaster relief, John became knowledgeable in the matter of disaster readiness, preparedness and homesteading.  Some would call him a "prepper" or even a "survivalist", yet he's actually a realist and pragmatist, skilled at what he does.
John's excellent knowledge of real estate, planning and design caters specifically to clients of Retreat Realty.  He can introduce you to experts in the fields of alternative energy, green building, animal husbandry, security measures, communications, etc.  Given the nature of this subject, discretion is necessary and a special skill set is crucial.  With such an investment, one must operate with the highest level of integrity.  Read the testimonials and if you'd like to see dozens of full length testimonial letters, let us know.  We also note that John is a broker affiliate with Keller Williams Professionals of Asheville, NC. With over 500 Keller Williams agents in the Asheville market, John is a consistent performer having been named "Top Producer" for the years 2019, 2020 and 2021.
We value your time, but also ours.  Viewing properties in the mountains takes time because of the distances involved, especially for retreat properties.  Therefore, before investing a great deal of time, we need to know that you are (1) serious; (2) financially capable of buying and; (3) have the right mindset.  We aren't tour guides.  We're professionals.   Please read our post about touring properties with us.
While Retreat Realty's focus is on land and homes in the mountains of western North Carolina, we can assist in the purchase of properties anywhere within the state.  Just call and we will be glad to consult with you.
AGENCY DISCLOSURE
We most often operate as Buyer's Agents, screening properties and showing only those that are most relative to your need and budget.  However, we also list properties for sale and in such cases will operate as a Dual Agent.  If that sounds confusing, you can learn more about Agency Relationships by visiting the NC Real Estate Commission website by clicking here.  In a nutshell, until we have established how we will represent you, don't tell us anything you wouldn't want a seller to know.
Retreat Realty does not discriminate against any protected class of persons so identified by any Federal or State agencies.