Price: $3,995,000 (SOLD 10/12/21)
Location: Burnsville (Yancey County)
Detailed Property Information
Acreage

404+/- acres


Road Frontage

Paved public road over private bridge

Topography

Gently laying pastures and woodlands

Surface Water

Three miles of riverfrontage

Electricity, Telephone

Electric, telephone and high speed internet

Well Water

Yes

Sewer System

Septic

Pond/Lake

None

Open Field/Pasture

Approximately 90+/- acres

Nearest Interstate Highway

16+ miles (I-26)

Nearest Four Lane Road

12+ miles (US 19)

Nearest High Density Area

14 miles to Burnsville; 38 miles to Johnson City, TN
Photo Gallery
We have the privilege of listing some unique properties, and within those unique properties there are those that stand out for special reason.  This 404+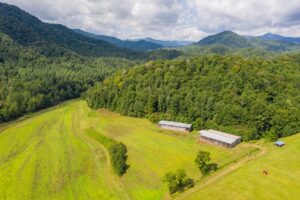 acre parcel with three miles of river frontage is one of those special properties.   Situated in northern Yancey County (due north of Asheville by approximately 55 minutes) this property provides seclusion yet accessibility and an abundance of opportunity.
The highlight of this property is the approximately three miles of river frontage.  The bulk of frontage is on the Cane River which at this point has a width of more than 130 feet from shore to shore.  The frontage continues once the Cane River joins with the North Toe River, which itself is approximately 200′ wide.  These two rivers, then become the Nolichucky River which itself passes along the property for another 1,800+/- feet.  The Nolichucky River is well known for its scenic beauty and white water rafting including Class IV rapids which are found several miles downriver.  The Cane River at this point is a gently flowing, lazy river with just the right amount of small rapids and riffles to make swimming, tubing and fishing a delight.
It is uncommon to find a parcel that has substantial river frontage, and extremely rare to find one that has approximately three miles of it!  Furthermore, the river is easily accessible along this entire length.  That is, very often when one finds a property with big water frontage, the river frontage is inaccessible or difficult to reach due to steep topography and thick vegetation.  Not here.  One can simply walk down the gentle slope to the river frontage for nearly its entire length, meaning you can enjoy it from anywhere along the river.  Want to fish?  Just step in anywhere.  Want to go tubing?  Just step in off the sandy shore.  Want to swim?  Jump in from any number of places.  In addition to the big water along the property, there are several small spring fed creeks within the 404+ acres themselves.  Click here for a video tour of the property.  For an in depth web page including a 44 page PDF brochure complete with topographic maps, site plans, area information, etc., click here.
An added benefit of the water is that the rivers provide a natural barrier to entry to the property.  That is, the only access to the property is via an approximate 150′ steel and concrete bridge that is part of the real estate.  One leaves the public road right-of-way and must cross the gated bridge to access the property.  For those seeking total privacy and security, it doesn't get any better than this.  Yes, there are properties along the western flank that adjoin the property, but there is no legal access from that side, and the topography is very challenging.  Therefore, if security and privacy are high on your list, this one is hard to beat.
Yet at the same time, its easily accessible via a network of publicly maintained paved roads.  Just turn off the public road onto the bridge and there you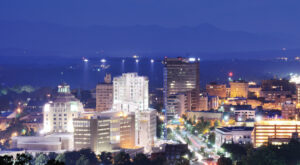 are.  Though the property is in a very rural setting, 14 miles from the nearest grocery store, it is an easy and scenic drive to the county seat of Burnsville with all its shops, restaurants and services.  If you're into the arts/crafts scene, Burnsville is home to the Toe River Arts Council which boasts more than 100 individual artist studios in the area creating works that are featured in galleries all over the world.  Of course nationally recognized Asheville is just down the road approximately 55 minutes away if you want to take in some of its culture, or you can just hunker down in this rural area if not.  A number of other small towns dot the area that provide interesting day trips such as Mars Hill, Marshall, Spruce Pine, and then just across the state line is the booming college town of Johnson City.  There is no shortage of activities or services in this area.
Speaking of services, the property has full electrical service feeding the large barns on the property.  Additionally in today's tech driven age, access to the internet is very important.  Fortunately, this property is served by high speed fiber optic based internet via the locally owned County Cable service.  This is a well respected provider and if you're coming from an area where you can only get an automated response when calling for service, you'll be delighted to discover that upon calling for service with Country Cable, you'll be speaking to a live person who lives in the area and likely knows your property location.  Just another benefit of small town living.
But what else is there on this property rather than river frontage?  Out of the 404+ acres, there are approximately 90+ acres of gently laying, rolling pasture and field.  This acreage has been kept in hay for years and continues to be used for that purpose.  Acreage of this nature is highly sought after for its gentle building topography and agriculture potential.  If you want a sustainable farm, there is ample acreage to do so.  The topography is gentle enough to build large footprint buildings, dressage arenas, stables, etc.  In fact, there are already two very large, well maintained high clearance barns on the property totaling approximately 13,000 square feet.  These could be used for a variety of purposes including farm equipment storage, livestock, recreational halls, community center and even made into residential dwellings if desired.
As one moves further into the property you'll find hundreds of acres of forested mountain land.  Within this acreage are approximately five miles of existing logging roads that can used for interior driveways to multiple potential buildings sites up on the mountain that takes in views of the surrounding mountains, valley and rivers below.  There are several additional miles of legacy trails as well.  It is truly rare to find views on one property that incorporate, river, valley and mountains from the same spot.  The topography within the mountain varies from gently laying finger ridges and plateaus to steeper hillsides covered with flowering rhododendrons.  If you're looking for wildlife, you'll find it in abundance here.
This area is rich in flora and fauna being habitats for deer, turkey, fox, bear, geese, etc.  Just set up a wildlife cam or two on the property and you'll be amazed at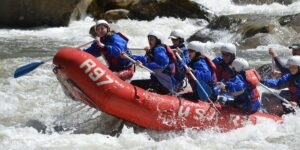 the nighttime visitors that come through.  There are no public or private restrictions on the property, therefore if you wish to hunt you're free to do so.  Of course the other wildlife that is so prevalent is the kind with gills.  The Cane, North Toe and Nolichucky Rivers provide the fishing enthusiast myriad opportunity to enjoy fly fishing either from the shoreline or drifting in a flat bottom boat.  Again, how often can one simply step off his own property into such pristine waters?
Because there are no public or private use restrictions on the property, you're able to turn it into most anything you'd like.  Given the amount of acreage and the varied topography, the uses are numerous.  If looking to develop the property into an income producing venture, one could build rental cabins or glamping platforms in various places.  This could be a highly successful venture as rentals with access to rivers are in very high demand.  The property could be turned into an agri-tourist destination featuring an educational working farm on which guests could stay overnight and get the experience of living on a farm for a few days.  Wedding and event venues are in very high demand, and given the beauty and backdrop of this acreage, that too could be a very successful venture.  Then there's always the possibility of subdividing the land into estate lots for sale.
But if opening up the property to others is not your cup of tea, the property would make the ideal family compound/homestead.  Again, the secure access and remoteness along with the richness of resources make this property an ideal "bugout" or prepper property with the ability to be totally off-gird if desired if one is looking for a safe haven in times of trouble.  The property has an abundance of water resources which is critical to homesteading and this could be utilized for micro-hydroelectric generation.  Of course with 90+/- acres of open fields, there's the ability to install a small solar farm that could easily generate enough power for a multitude of dwellings.  Then there's the ability to plant row crops, gardens, and fruit orchards for renewable food sources along with ample room for livestock if desired.  Given the topography, one could create a long rifle range of several hundred yards to hone one's marksmanship.  Its simply a rare property that provides everything anyone or or multiple families may need if the situation should warrant it.  For a more extensive website experience, click here to be taken to the "Riversong" website with more photos, videos and a 44 page PDF with detailed site plans, elevations, maps, etc.
All in all, this is one unique property.  It is a "trophy property" in the truest sense of the word.  If you have the desire and the ability, call us today for a

private showing.  Due to the nature of this property, no "drive bys" are allowed and the listing agent must accompany all showings.  To properly experience this property, plan on taking up to two hours to take it all in.  Proof of financial capability must be presented prior to scheduling a showing.  So call today to schedule your private showing.  Please note that this property is jointly marketed with Altamont Property Group of Keller Williams Professionals.