Price: $464,900 (SOLD!)
Location: Madison County (Asheville Area)
Detailed Property Information
Acreage

131 Acres

Road Frontage

1,200' on two paved county roads

Topography

Gently laying fields to steep wooded mountain tops

Surface Water

Two large creeks that are spring fed

Electricity, Telephone

At the property

Well Water

Old house was served by a spring

Sewer System

Septic system for the old house, but not considered usable

Pond/Lake

None

Open Field/Pasture

Approximately 4 acres of fenced pasture

Nearest Interstate Highway

4+ miles (I-26)

Nearest Four Lane Road

4+ miles (US 19E)

Nearest High Density Area

8 miles (Mars Hill)
Photo Gallery
The Holcombe Farm is a very usable 131 parcel near the college town of Mars Hill approximately 25 minutes north of Asheville.  Mars Hill is home to Mars Hill University, which brings an air of life to this otherwise quaint mountain town.  Its a very easy ten minute drive into Mars Hill on state and four lane roads, yet the property is just right when it comes to distance off those roads.  Turn off the four lane, go a couple of miles, then one more turn to the end of the paved road.  This property is nestled in a beautiful mountain cove and has more than 1,200′ of road frontage on the county maintained paved road.  Much of this frontage is at road grade, which is important when building.
The property is so extensive that as it climbs up the mountain to more than 3,600′ in elevation, its northwestern property line runs along Chandler Creek Road, another paved county maintained road.  The views from up on high are excellent.  The primary building area and usable acreage is best accessed off the lower road, however, its nice to know you have a back entrance/exit.
The property has been in one family for generations.  Down by the road, there are approximately four acres of fenced, gently laying fields and pasture featuring an old barn that is still in use.  A modest concrete block residence was built more than 50 years ago, and although it contributes little economic value, it could certainly be used for storage of equipment, long term food items, etc.  Being that its comprised of concrete block walls, it makes it a somewhat imposing defensible location if needed.  Basically, you'd see anyone coming up the county road long before they see you.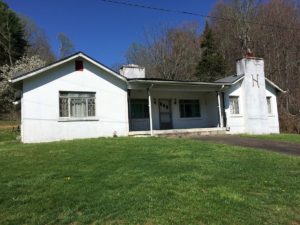 There are two sizable creeks on the property that are sourced from springs within the property, thus providing ample year round water.  There is a fairly extensive interior road network within the property that allows access to several good building sites that are tucked away from view.  These building sites have very good topography and have a generally southern orientation.  The bulk of the property is heavily wooded and excellent for wildlife habitat.