Price: $169,000 (New Price!)
Location: Clay County
Detailed Property Information
Heated Square Footage

2,428 heated s.f.

Year Built

1998

# of Bedrooms

Four Bedrooms

# of Baths

Two Full

Overall Condition

Excellent condition, immaculately maintained

Acreage

1.13 Acres

Surface Water

Large year round stream

Pond/Lake

Small pond next to garden

Open Field/Pasture

Large fenced garden area

Nearest Interstate Highway

80+ miles, I-40

Nearest Four Lane Road

26 + miles US 64

Nearest High Density Area

15 miles (Hayesville)
Photo Gallery
Looking for the ultimate sustainable survival property?  Look no further.  AND WHAT A PRICE!  On occasion, I come across a property that gets me really excited.  This property in the far reaches of western North Carolina is just such a property.  Located about 15 minutes from the mountain town of Hayesville (about 1.5 hours west of Asheville), this property offers it all, and then some.  Lets start with the land.
Yes, its on a small parcel of just over one acre.  From those who know me, I stress the importance of having sufficient land for one's needs and security, yet there can be offsetting features that make that not as critical.  In this case, it abuts large tracts of rural untouched acreage, meaning lots of wildlife and privacy.  Its on a dead end road with one way in, and one way out.  But more importantly, its surrounded by like minded neighbors.  Granted, neighbors can move, but as of this writing, the neighbors have formed their own mutual aid group.  When I arrived, I learned the neighbors carry MURS radios and Baofeng handheld HAM radios communicating daily with one another.  Talk about a "Community Watch"! The property itself comes with both UHF and VHF mounted antennas.   Therefore, although the property itself is small in size, it adjoins larger parcels meaning the population density is very, very low and it is well off the beaten path, meaning no hoards of refugees will ever know you're there.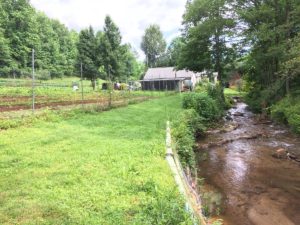 The parcel of land is very gentle and improved with a large garden fenced to keep the critters out.  Its an exceptional garden with great soils and lots of sun.  Equally important is the fact that the garden has been cultivated for years, meaning the soils are rich and productive.  A greenhouse is adjacent to the garage and has its own wood stove for heating as needed.  Around the land there are several fruit trees as well as a creek fed pond in which you can keep fish.  Not only does the pond provide long term water storage, it provides habitat for frogs and insects such as dragon flies, which are a very beneficial.  Perhaps the greatest feature of this property is the very large stream to the rear.  The elevation drop from the high side of the property to the lower provides substantial head pressure of water such that the owner has installed a micro-hydro electric generator system using an 8″ intake line.  The creek is quite large, flows year round and provides not only power, but water for irrigation as well as emergency drinking water if needed.  Regular drinking water is provided via a 20 gallon per minute well that can be operated off the solar charged battery system is needed.
There is a built in chicken coop and enclosed free range area for them.  The feeding and care of the chickens has been carefully laid out and worked using labor saving devices for feeding and watering.  The fact that the property owner is an inventor and engineer by training shows up throughout the property in all the various mechanical systems.
The house itself features four bedrooms and two full baths on one level in 2,428 heated square feet.  It was built by Palm Harbor Homes as a modular home with beefed up framing and sheathing.  Don't use the phrase "mobile home" to describe this property.  This house was built to NC State Building Code and exceeds it.  This is a solid house, and one visit will make that clear.  It is spacious, light and airy and well laid out with a large master suite on one end and three bedrooms on the other.  To the rear is a very large, light filled sunroom overlooking the back yard, pond and creek.  But there is so much more than meets the eye with this house.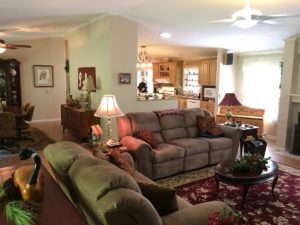 Up top is a solar panel array that feeds into a computerized power management system and series of deep cell batteries.  Although the house is tied to the power grid, with the flip of switch, it can be totally off grid and the power from the solar system and micro-hydro system provide more than ample power to run all necessary systems of the house.  Heating the house while the power is on is via a 17 Seer electric heat pump (very efficient), however, the house can be heated with a super efficient wood stove insert.  A specially designed air intake has been installed to bring filtered combustible air from the crawl space to a low spot in front of the stove which make for optimum heating efficiency.  The whole house has a positive inside air pressure system in place for both energy efficiency, but equally important, for keeping out harmful gasses, chemical or biological agents, or nuclear fallout.  Yes, this property is air tight, and carrying it one step further, the air filtration system in the house has a new filter from a nuclear power plant that scrubs the air far more than the $1.99 filters you get a Home Depot!
Hot water to the house is provided by the normal water heater, however, if needed, it can all be generated via a wood fired furnace.  Adjacent to the house is a wood furnace that doubles as a boiler, feeding hot water into the inside water heater by way of natural convection.  That means no pump is required to send hot water into the water heater tank.  As it cools, it flows back to the furnace to be reheated in a continuous loop.  The wood furnace can also serve as a cook stove if needed.
There is a huge amount of storage in this house by way of the oversized two car attached garage.  There is a workshop area to one side and large amounts of storage on the other, plus more storage in the attic above.  But this house has something else, very few offer: a Faraday Room.  That's right, not just a Faraday cage, but a room.  It measures more than 6′ x 14′ and is totally hidden from sight.  If you don't know what a Faraday cage is, click here.
In addition to the above, there are numerous security features within the house.  We're not at liberty to disclose those features on the website, but by signing a confidentiality statement and satisfying our vetting process, we can arrange to show these features on a site visit.  Due to the location and complexity of this property, we must accompany all prospects and each prospect will be asked to provide proof of funds or a pre-qualification letter prior to visiting the property.  Twenty-four hours notice is the minimum allowed for scheduling a showing.
In addition to the real estate and all the mechanical systems this property offers, numerous personal items, tools and supplies will convey.  Of course the owner will be available to educate the new owner in how to operate everything.  Pricing and inventory of these items will be provided upon request.
So if this sounds like what you've been after, call us today.  The price is far below replacement cost, so this is your opportunity to benefit from all the labor and brain power that has gone into this incredible property.  Those two things alone are priceless.  Basically, the heavy lifting has already been done for you.  Call us today.