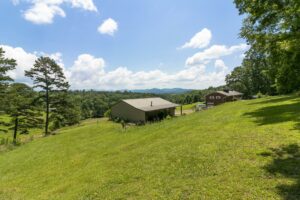 While much of the economy has shut down, real estate searches for bugout properties, off the grid properties and prepper properties has kept me busy.  In the past two weeks, I've written two more purchase agreements and closed two more transactions with several more pending.  The most recent purchase agreement occurred within 24 hours of being listed.  It was this was a 2.63 acre parcel on Little Rock Creek in Mitchell County that was listed at $69,900 and resulted in multiple offers.  That doesn't happen too often, but its nice when it does.  Then today, we closed on this 14 acre farm north of Asheville.
But the highlight of the week was a letter I received from a client for whom I DID NOT sell her property.  It was an amazing self-sustaining off-grid property.  At her request, I withdrew the listing due to her pending divorce.  At times, it was a challenge working with owners who did not communicate directly, all the while attempting to be fair to both sides in fulfilling my duties.  Following her recent settlement, she wrote the following to whom it may concern:
"When I found myself in the position of needing to sell my homestead after a long term marriage ended, John was the Realtor I turned to.  It was immediately evident, upon meeting him that he is not only incredibly good as a Realtor, but also that he is a good man.
"The photos and listing that he created for my place were truly amazing.  His years of experience and his attention to detail came together to create a lovely showcase so far beyond the average listing, that I think it immediately drew attention.
"Throughout the time John showed my place, he was consistently excellent at communicating.  He understood the needs of my family in regard to showings, was deeply considerate of our trying circumstances, and always made sure to communicate quickly and well.  John took the time to learn each detail of my property in order to best represent it to potential buyers, and was genuinely delighted to be able to show it.  He is incredibly knowledgeable about selling property and it is clearly very important to him that he does his utmost best for each of his clients.
It's not often that someone embodies both professionalism and deep, connected caring and humanity.  John is that rare human being who does.  Anyone represented by John is lucky indeed to have him.
Kathleen Brookshire