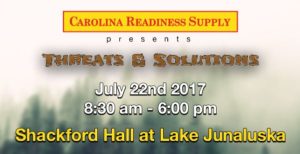 One of the benefits of living where I do is that there is a very supportive and active prepping community.  One of the gems of this area is Carolina Readiness Supply in Waynesville.  If you've been a subscriber for a while, you know I've mentioned them before.  Well, I just got an email announcement from Jan over at the store about the upcoming seminar titled "Threats and Solutions".
Its an all day event held at the Lake Junaluska Conference Center's Shackford Hall on July 22nd there in Waynesville (45 minutes west of Asheville).  This seminar features six different speakers including Dr. Bill Forstchen, author of "One Second After"; Scott Hunt, founder of Practical Preppers and youtube favorite Engineer775; Alan Kay, winner of the History Channel's hit show "Alone"; and others.
Tickets are $20.  This is a great one day event that I highly recommend.