This weekend I tried out cooking with the Sun Oven during a practice bugout scenario at a friend's farm.  The Sun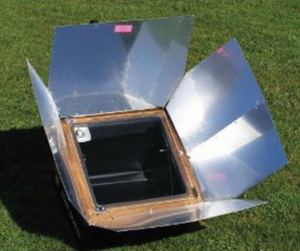 Oven worked perfectly.  There was basically no assembly required and I had it out of the box and in the sun ready to go in minutes.
Using some eggs from a friend's hen house and a boxed brownie mix, I quickly whipped up the mix, put the pan into the Sun Oven and walked away to do some target shooting elsewhere on the farm.  The oven has four reflective panels and an aluminum baking cavity painted black to capture the heat.  A small adjustable stand on the back allows you to keep it aligned for the best sun exposure.  There is a self adjusting rack inside that keeps pots and dishes level as you adjust the angle of the oven up or down; pretty smart idea.
Within a few minutes of setting up the oven, the interior temperature climbed past 200 degrees and in about 20 minutes it was up to 300.  With this being my first time using it, I let the brownies cook for an hour (since it didn't get over 300), but could have been done sooner.  The only drawback is that when you open the glass cover, a lot of the heat escapes, but the same can be said about the oven in your home.  It was a great experience to cook without electricity or gas, and the guys in my group were impressed and the brownies were gobbled up.  The entire set up only weighs around 20 pounds and can be easily carried in a car.  Every mountain survival property should have one, or two.
Do a google search and you'll find videos of folks cooking all kinds of things including cooking in the dead of winter in the snow.  Its all about the sun's energy and not the outdoor ambient temperature.  Best of all, its all made here in America!