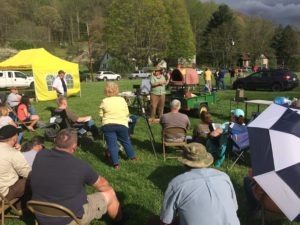 The annual Heritage Life Skills in Waynesville is coming up soon! Its April 12 – 14 this year and is being held once again at the Folkmoot Center. if you haven't attended and are interested in learning the skills our great-great grandparents knew, then this is for you. Lets face it, our great-great grandparents were preppers before the term was coined. They had to be. They simply didn't have the luxury of instant electricity or hot and cold running water and all their benefits.
At Heritage Life Skills you can attend classes on canning meat, canning vegetables, raising rabbits, identifying edible plants, soap making, how to make fire, medical care when a doctor isn't around, home security (without electronics), firearms safety, beekeeping, communications, map reading, concealment, alternative power systems, self-defense and much, much more. All in all, there are around 60 classes. But in addition to the classes, you can visit the exhibit hall and talk with vendors showcasing all manner of items for homesteading and prepping.
Meet authors of the survival genre such as Dr. Bill Forstchen of "One Second After" fame or Franklin Horton of "The Borrowed World" series. Meet Scott Hunt of Practical Preppers and many other speakers on a variety of topics. Its a wonderful event put on by our friends at Carolina Readiness Supply in Waynesville. Sign up early for discounts on the classes. The exhibitor's hall is free to everyone. Hope to see you there!