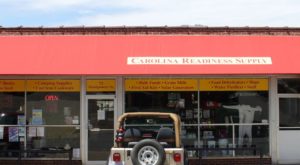 Whether you're new to the idea of disaster preparedness or not, the Heritage Life Skills V is something I highly encourage you to attend.  Held April 29th through May 1st at the Haywood County Fairgrounds outside Waynesville, it is the most comprehensive event of its kind in North Carolina if not the southeast.
The event is sponsored by our good friends at Carolina Readiness Supply in Waynesville which to my knowledge, offers the most complete inventory of supplies to be found anywhere in western North Carolina.  If you've never visited their store, I highly encourage a visit.  They provide basically everything you would need except firearms.
As for Heritage Life Skills V, this three day event features hands on opportunities to learn new skills that will help you survive living off the grid if necessary.  There are speakers and seminars covering a wide range of subjects.  Some of these include canning foods; radio communications; fire starting; emergency auto repair; firearms, sheltering; dehydrating; CPR training; surveillance detection; dutch oven cooking; solar power systems; wells & pumps, and much more.  There are literally dozens of classes.  Come and learn the skills that your grandparents and great-grandparents used when they were growing up.  The speaking guests include nationally known figures including my Black Mountain neighbor and friend Dr. William Forstchen, author of "One Second After" along with Chris Weatherman, star of the History Channel's show "ALONE".  These are always good skills to have, regardless of the world situation.  Visit Carolina Readiness Supply to register.