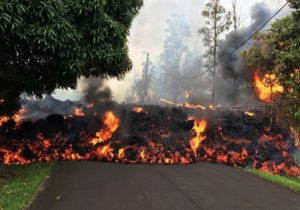 Things have gotten hot in Hawaii of late.  You can't watch the evening news without seeing the amazing video of the creeping lava flows engulfing entire neighborhoods.  How quickly one's daily routine can change.  One day you're enjoying the south Pacific breezes plucking a mango from your own tree; the next you're watching your house be devoured by lava.
Though we don't have active volcanoes here in the greater Asheville area of western North Carolina, we do have things that can suddenly come upon us, requiring us to head to higher ground so to speak.  One of those is that of wildfires.  A couple years ago we could smell the smoke from wildfires in the area as they consumed thousands of acres, and were shown how quickly they can spread as we watched the town of Gatlinburg, Tennessee become engulfed in a fire with the loss of more than 700 homes and many lives.
It pays to be prepared.  Keep copies of your vital records in a handy place and have a bugout bag or large Tupperware container of emergency clothes and supplies in case you need to bolt for the door.  Get in the habit of keeping your gas tank at least half full.  And don't forget about your pets when planning.  Its sad to see what is happening in Hawaii, but let it be a reminder that we should all be prepared for what may come our way in our own hometowns.