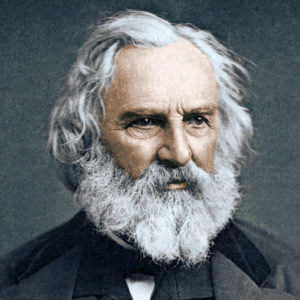 One of my favorite Christmas carols is "I Heard the Bells on Christmas Day" by Henry Wadsworth Longfellow.  As we pause to celebrate Christmas amid the hustle and bustle of getting and giving "things", I feel the words of this hymn apply very well to where we find our nation today.
Longfellow was one of the most well known men of his day in the late 1800's, and is considered by many to be one of the foremost poets and literary artists of all time.  Yet most Americans have never heard his name as they are more pre-occupied with narcissists such as the Kardashians who have given this nation nothing but garbage.
Two years prior to writing the poem that would be put to music by Englishman John Calkin, Longfellow witnessed the accidental burning death of his wife in their home.  His grief was enormous, but his faith endured.  That was July 1861.  The rumblings of war were loud at that time, and just one year later our nation would find itself descending into civil war.  Two years later on Christmas Day 1863 in the midst of the period of greatest loss of life in our nation's history, he wrote the poem that would become one of the most beloved hymns of the late 19th and early 20th centuries.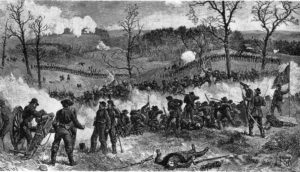 Gettysburg was just six months past, as was the Battle of Vicksburg.  Just the month before, the army of Union Generals Grant and Sherman defeated Confederate General Braxton Bragg at the strategic railroad city of Chattanooga.  On both sides there were more than 12,000 to 15,000 killed, wounded or missing in action.  No one knows the total count.  Reportedly, when an army chaplain asked Union General George Thomas whether the dead should be sorted and buried by state, Thomas replied "Mix'em up.  I'm tired of states rights."  It was a most dark period in our nation's history with no end in sight.  Yet in the midst of this darkness Longfellow penned these short verses:
I heard the bells on Christmas Day, their old familiar carols play, and mild and sweet their songs repeat of peace on earth good will to men.
I thought how, as the day had come, the belfries of all Christendom had rolled along the unbroken song, of peace on earth good will to men.
And in despair I bowed my head, "There is no peace on earth I said.  For hate is strong and mocks the song of peace on earth good will to men."
Then pealed the bells more loud and deep, God is not dead nor doth He sleep.  The wrong shall fail, the right prevail with peace on earth good will to men.
Till ringing singing, on its way, the world revolved from night to day.  A voice, a chime, a chant sublime of peace on earth good will to men.
With the headlines of our day being full of terrorists threats and attacks; of political rhetoric full of venom, its easy to think its all coming to a head once again.  And it could be.  As I've written before, there are very real threats to our nation and way of life, and they seem to be growing in intensity.  Yet I pause this Christmas season to remember that "God is not dead, nor doth He sleep.  The wrong shall fail, the right prevail, with peace on earth good will to men."  May you find the joy and peace of Emanuel this Christmas season and have a blessed 2017.  All is not lost.  We have much in this nation for which to be joyful this season.  So celebrate it!  And if you want to know more about the peace that rests in me, give me a call and lets chat.
(P.S. I've looked for a link to a video of this hymn set to its original musical score.  While there are many, all I've found are modernized versions set to a different tune or sung with a lighter air.  So seek out a good old hymnal with worn pages and follow that tune.)