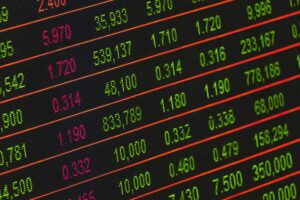 One need not look far to find a plethora of worrisome headlines these days.  Example:  multiple banking failures (Credit Suisse being the most recent), the possible indictment of a former President, war in Ukraine, China's saber rattling, inflation off the charts, stronger and stronger earthquakes, etc., etc.  Of course, there's never been a time in history when one couldn't easily find something about which to be gravely worried.  But the world keeps spinning and the sun continues to rise every morning.  For those of you who know me well, you know I'm not worried about my long term prospects and why.
But in the near term, the handling of one's affairs demands prudence, and that is where owning high quality real estate comes into play.  Of course real estate is not a liquid asset that can quickly be cashed in or traded for goods and services, so I never advise buying real estate on speculation in anticipation of a quick flip.  However, real estate typically offers a long term, secure investment for one's portfolio that can provide multiple benefits such as:
Capital appreciation:  Historically, land values have consistently climbed through the years and with increasing population and a desire of many for an "escape to the country" menatlity, choice rural mountain land is in more demand than ever.
Quality of life:  Unlike owning shares of stock or a bond, one can actually enjoy and use real estate if desired.  Some corporate stocks pay dividends, but the right kind of real estate can also pay dividends of another kind.  What value would you place on having a beautiful hideaway in the mountains by a stream or overlooking a valley where you can enjoy time with family and friends such as the 202 acre Thomas estate on the Nolichucky River that has been used by the sellers for just that purpose for 30+ years?
Diversification:  Every investment advisors worth his salt will tell you to diversify, and quality real estate is one way to do so.
Limited inventory:  As the old saying about land goes "They ain't making any more of it!", there is a finite amount of land available for ownership.  Compare that to government bonds which are propped up by fiat currencies (i.e. money literally printed out of thin air by central governments) that can be devalued quickly, or companies that can issue more of their stock which dilutes its value over time.  Though gold and silver are considered as being limited in availability to a large degree, even these precious metals are continually mined, though much of silver goes into manufacturing.  But not land.  There is only so much of it, and that will never change.
Income:  Some properties such as Taffie Ridge Farm provide income potential via long term rentals or five-star VRBO short term vacation rentals such as those on this 144 acre farm.  Or perhaps one acquires land that has a good stand of timber that can be sold off at a predetermined date for income such as that on this 27 acre mini-farm having an established Forestry Management Plan in place.
Regardless of your budget, there are many opportunities to diversify your investment portoflio and quality real estate here in the mountains of Western North Carolina is a great option to consider.  Therefore, call us today to discuss your needs and how we can help you in making it happen.