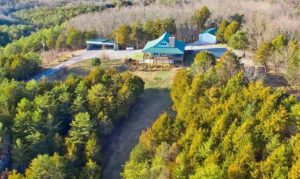 Once in a while, we get introduced to some really unique opportunities and this new homestead prepper community is one such example.  I must first note that it is located in eastern Tennessee and Retreat Realty is not licensed in Tennessee so we cannot physically show the property, but we can certainly make you aware of it and you can check it out on your own.  I often get calls from folks looking for property in that area, so its nice to have somewhere to refer them.
This property is situated about 40 miles north of Gatlinburg in a land of beautiful, gently rolling woodlands and farms.  There are nearly 90 acres and the owner has designed it to be subdivided into six to eight large acreage parcels for individuals looking to homestead and live closer to the land.  Given its characteristics, it is ideally suited for those with a prepper mindset.  The owner has already drafted covenants and restrictions that ensure a well maintained community, yet with allowances for livestock, beekeeping, hunting, target shooting, and a variety of unconventional uses; you know, the things most subdivisions do not allow.  This could be an excellent way for individuals with a limited budget to have the benefit of a larger parcel.
There are already houses on the property including several agricultural outbuildings and they have equipment on site that can be used to make improvements to one's parcel (i.e. driveways, foundation excavation, septic installation, etc.).  Access is via a private road and public paved county road, yet it is well hidden from view.  Security and privacy are of paramount importance to the owner/developer.  There is already one substantial pond on the property and locations for others.  Plans call for some earth sheltered homes as well as a solar farm tied in to a water distribution system along with gardens and orchards.  One of the goals is to be a self-sustaining community, producing its own power and food.
If you have an interest in further information, please contact us and we'll be glad to make the introduction.