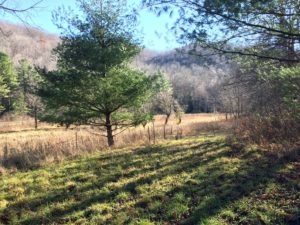 Have a new property coming soon.  This one features 131 acres of beautiful land in southeastern Buncombe County (Asheville).  Its hardly ten minutes from downtown Black Mountain with its dozens of privately owned restaurants along with every shop and service you could need for day to day living.  Wouldn't it be cool to share the same address as Colonel John Matherson (Ret), the protagonist of "One Second After"?
The property is in a rural part of the county, well off the beaten path, yet easily accessible year round.  It features approximately six acres of gently laying pasture/farm fields.  The fields have grown up in recent years, but a quick going over with a bush hog will get it ready for planting or grazing.  There's a small off-the-grid cabin on the property that is presently rented (meaning its habitable) as well as two small storage/work sheds.  The remainder of the property is of wooded mountains going up to 3,475′ above sea level.  It encompasses several ridges with gentle topography.  There are well maintained ATV trails throughout.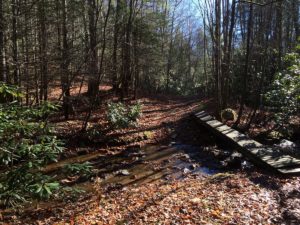 Best of all, there's a large year round creek running right through the property.  You could own both sides of it.  Excellent source for irrigation or even possibly power generation.  Electricity is to the property along the paved road, but if you want to go solar, this property gets plenty of hours of sun per day.
So stay tuned for the upcoming listing.  Should be on the market within a week.  This property is ideal for a well located bugout or survival property in the western North Carolina mountains.  Asking price will be in the high $600's.