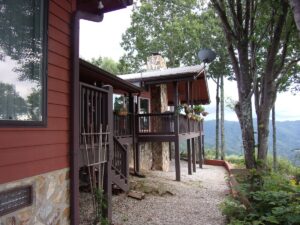 This is one of the most comfortable "off-grid" sustainable living bugout properties you'll ever find.  I say "off-grid" because it is actually tied into the power grid at the moment, but has the ability to become totally "off-grid".  Nestled near the top of a 3,800'+ mountain about 15 minutes outside Bryson City, this is a complete property.  Should the world go to pieces, this is the kind of place you want to run to.  There are 49 acres of privacy with good year round access, yet security.
The house itself features three bedrooms (with a fourth possible), comfortable living areas, expansive decks for enjoying the view, metal roofing, numerous mechanical systems, numerous hidden features, etc.  There's not one, but two HAM radio towers, a wind turbine, a 7kw solar panel array feeding a wall of 48 deep cycle marine batteries and even a gasifier.  Don't know what that is?  You can basically burn wood and produce combustible gas that will run the whole house generator.  Concerned about an EMP or a CME?  This place even has a Faraday closet for storage of sensitive electronics.
There are well established raised beds in the garden, all irrigated, fruit trees, berry bushes, a small greenhouse and garden shed to house your garden tools. There's a small livestock corral, and "critter corner" for chickens and other small livestock.  Ton's of seasoned wood is available for the woodstove and gasifier.  The house has a two bay garage and the "barn" has three more bays.  There's a well on site along with creek down below and multiple building sites that are easily accessible via a network of interior roads/drives.  There are numerous other features which the seller does not want publicized.
NOTE: this property is listed by a different agency as it is far removed from our customary area of service, but the seller has asked us to help promote it and we're glad to get the word out.  If interested, we can arrange a private property tour.  Seller asks that only serious and qualified folks inquire.  Asking $999,900.