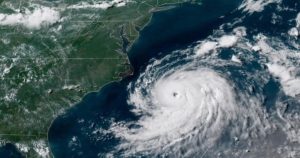 Here we are in the mountains of Western North Carolina and we are preparing for Hurricane Florence.  Seems odd to think that a weather event that is mostly associated with coastal flooding and damage down there is something for which we in the mountains should prepare.  But past experience has shown that if a hurricane comes up our way and decides to park here, the results can be disastrous.
If you've followed this blog for very long, then you know the primary things in preparing.  I won't create a laundry list of items here because you can quickly google those and be just fine.  Instead, I'll mention some items that may be overlooked on the standard lists.
Remember your pets.  They are totally dependent upon you.  Food, pet carrier, meds, toys, litter, etc.
Remember your neighbors.  Do you have elderly folks or folks with limited mobility nearby.  We have several older widows living alone.  They would appreciate a phone call and offer to help.
Cash.  Have cash on hand.  You should always have some in your bugout or get home bag.
Liquid bleach for sterilizing water.
Personal documents. You've read before that I have a binder with copies of critical documents such as driver's licenses and other documents to prove I live where I say I do just in case we're evacuated.  Could you prove to the National Guardsman blocking your street that you in fact live on that street?
Firearms.  "What?" you say.  If there is severe flooding and damage, we all know that looting is a real possibility.  With that comes a crackdown by law enforcement on firearms, even those owned by law abiding citizens.  Just ask those who went through Hurricane Katrina.  Remember you can't take them into a Red Cross shelter.
Notify family.  If you're evacuating, let others know where you intend to go and when to arrive there.
Pray.  Pray for safety of your family and those in harms way, and especially those emergency personnel who put their own family's to the back of the line to take care of you first.  Equally important, don't put yourself in a situation that will force someone to come rescue you.  Get out while you can.
These are just a few things.  There are many more, but prepping isn't simply about preparing for a nuclear or cyber attack.  I've said before, we should be ready for natural disasters as well.  Hurricane Florence is just such a case.