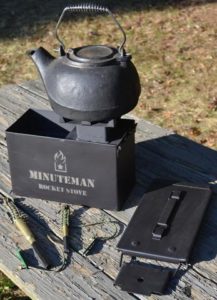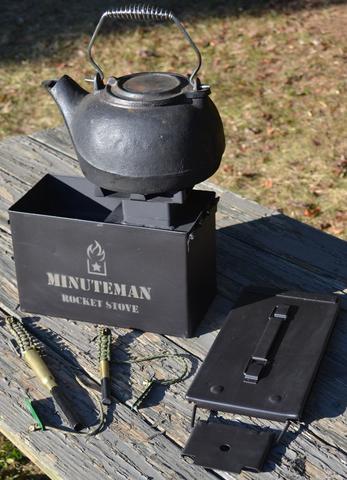 Its been a while since I've posted a product review, so in between property showings, I thought I'd send up a new one.
I met Lane Miller, creator of the Minuteman Rocket Stove at the Heritage Life Skills event held in Waynesville, NC earlier this year.  As soon as I saw it in action, I decided to get one.  I have a larger Volcano Stove, however, the Minuteman Rocket Stove is smaller, easier to transport and can cook almost as well.
Its made from a 50 caliber ammo box, heavily insulated with ceramics and painted in heat resistant paint.  One of the most amazing features is the insulating capacity of it.  Why?  Because you can get a fire going up to 1,300 degrees in this thing, yet it can be sitting on a piece of furniture without turning your fine dining table into ashes.  While the interior is broiling, you can actually touch the side of it without getting burned.
Another amazing feature is that it only requires small sticks to get the fire going and keep it hot.  That's right, you don't need logs, or a bush knife to cut up kindling or any exotic fire starting gels.  Just little sticks you can find anywhere up to ones the size of your thumb.
Its lightweight, efficient, compact and no mess.  Check out the Minuteman Rocket Stove today and tell Lane I sent you!  He sells them online for just $169.95.  I highly recommend having one as part of your emergency supply equipment.  Get one for your North Carolina mountain bug out property.