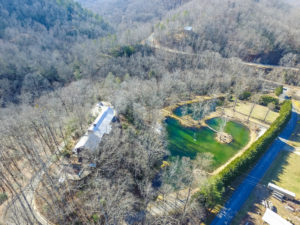 We recently closed on the sale of the Round Knob Lodge, the magnificent lodge built by the Southern Railway in the 1930's.  It is an amazing property situated on 29 acres up on a rocky promontory overlooking the Mill Creek and a bass pond and a trout pond.  The setting is stunning.  The property was full of railroad memorabilia.
But don't worry, we have others!  Take a look at the Stroud Valley Farm with its five bedroom suites in a totally restored farmhouse on its own 29 acres fronting the Broad River.  Or perhaps the Riverfront Property on 46 acres with frontage on the N. Toe River.  Or how about this ten acre mini-farm located just outside Asheville.  Or maybe this sustainable farm located between Weaverville and Asheville with beautiful mountain views.  These are just a few of the available properties in our inventory, and we're adding more all the time.  In another week, we anticipate listing a three bedroom masterpiece of a house situated on 33 private acres with thousands of feet of rushing streams.  Even better, it adjoins USFS lands and is totally off-grid, being powered by micro-hydroelectric and solar.  The asking price is expected to be in the mid to upper $700's.
So check in with us and let us know how we can assist you in your search for the ideal western North Carolina retreat, bugout property or homestead.