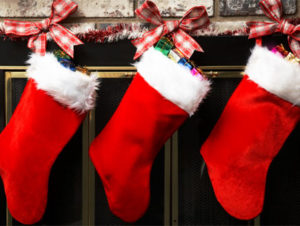 Looking for some stocking stuffers for your prepper?  Then look no further than this list Tess Pennington has compiled on her blog site.  Lets face it, many of the items you find for sale on prepper websites can be rather expensive.  I recently had an inquiry from an individual stating she was just starting out in prepping and a little overwhelmed with it all.  She was asking for a quick list on how to get started.  The list by Tess Pennington is populated with smaller items that won't break the budget, and while they don't cover the major necessities of prepping, they will certainly be appreciated by the prepper in your family whether be beginner or seasoned expert.  Here's a short sample of items on the list:
Credit Card Survival Tool  (I've got one)
Quick Clot  (Got a couple plus a couple Israeli Battle Dressings)
Inflatable Solar Lantern  (Don't have one but would be nice to have)
Encrypted Thumb Drive  (Get one!  I learned the hard way when I lost a thumb drive at Staples.)
Tactical Flashlight  (Got several)
Iosat Radiation Prevention Pills  (Got a bunch)
Camping Hammock  (Got an Eno and its great!)
Essential Oils (We use Young Living Oils all the time.  Great for warding off colds, aches and pains.)
The list goes on and on, so take a look and I'm sure you'll find a great stocking stuffer for your prepper in there somewhere!  Merry Christmas!