As you know, I'm an affiliate of Keller Williams Professionals, the largest real estate brokerage in the United States.  I could certainly operate solely as Retreat Realty, Ltd. which is my primary firm, but having the affiliation with KW allows some added benefits, one of which is competition with other agents to keep me sharp.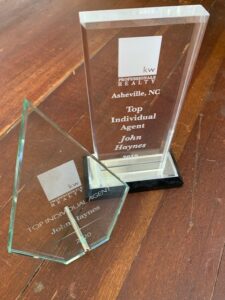 In the Asheville Market Center for KW, there are around 448 agents.  KW just had its 2020 awards get together and for the second year running, I was named "Top Individual Agent" for the year!   Not only that, but I learned that out of 8,000+/- Keller Williams agents in North Carolina and South Carolina, I ranked #10 in individual production.  I was shocked because that includes some very high dollar markets such as Charlotte, Charleston, Greenville, Raleigh, Greensboro, Wilmington, etc.  Its an honor but humbling as I certainly don't feel better than my piers.  I just work diligently caring for my clients as many letters of reference attest.
I appreciate those clients who have entrusted me with marketing their properties and other clients who have engaged me to assist them in the purchase of one.  But so much for the accolades…………..time to get back to work!