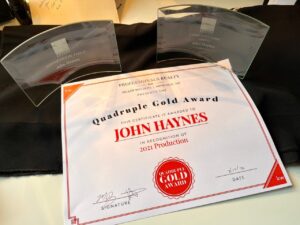 As many of you know, in addition to owning my own firm of Retreat Realty, Ltd., I'm also an affiliate with Keller Williams Professionals, the largest real estate brokerage company in the United States.  Historically I've operated on my own as Retreat Realty (and its predecessor: Trinity Advisors), but several years ago I also affiliated with KW.  Though it comes with some corporate oversight, KW allows me to operate pretty independently.
One benefit is having a network of related brokers with whom I can bounce ideas, learn and otherwise compete.  I don't consider myself a rabid competitor, but being within an office that has over 500 local agents, I am able to gauge my performance amongst my peers.  Not that being recognized as the Top Producer entails any extra financial bonus, it does however give me some bragging rights.
So last Thursday at the Keller Williams awards ceremony, I was recognized for the third year in a row as the Top Producer in the Asheville Market Center.  That is out of more than 500 local agents.  I owe a lot to many for getting me into that position, certainly those of my clients whose property sales and acquisitions propelled me to that position.  Of course the unfailing support of my wife, Josephine allowed me to put in the hours necessary to make those deals happen.  But most significantly, I must thank God above and my Lord and Savior, Jesus Christ for granting me this blessing.  By all rights, I shouldn't have been #1, and possibly not even be alive today without His involvement.  Some of you know that I was laid up in the hospital last year with the virus and for about six weeks, I conducted zero real estate business.  That makes being named Top Producer all the more amazing.  I can only give Him credit for that.
So what does 2022 look like?  Well, its off to another record start, well ahead of this time last year.  Obviously, many people are looking for that ideal mountain getaway or bugout property.  If that's you, then drop me a line or email and lets see if we can add you to the list of happy clients.  Who knows…..is a fourth year in a row a possibility?