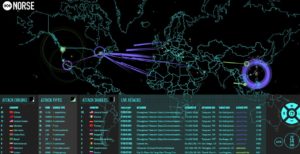 My wife recently attended a company seminar on cyber-security where they were reminded of the importance of protecting their passwords and online information.  But upon returning home, she told me about a website shown to them that she felt I and my readers would find very interesting.  I'd never heard of Norse Corporation until today, but here it is.
Norse is a southern California tech company focused on blocking cyber-attacks and tracking those who perpetrate them.  They monitor these attacks via more than 8 million web sensors and today have more than 7 Petabytes of data of attack history.  By visiting the Norse website and clicking on "Live Attacks", you can watch Norse's live feed of cyber-attacks around the globe.  Its a fascinating, almost eerie thing to watch as bolts of light flash silently from country to country representing yet another cyber-attack.  The numbers are mind boggling.  While watching briefly, I saw more than 200 attacks from somewhere in Thailand into the United States, all in a matter of seconds.  Spend a little time on the site and you can drill down into all kinds of data, but be warned, it can be addictive.
The point of all this is that the "average Joe" (including myself until a few hours ago), has no idea just how active hackers are around the world.  Norse's website provides a fascinating, visual look into this otherwise invisible world around us.  With all this kind of activity, it reinforces the fact that our energy grid and vital infrastructure is more and more at risk of a major attack.  Where will you go when it happens?