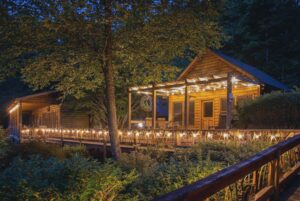 We all love a success story, don't we?  Late last year, I had the good fortune of representing the sellers and buyers of the former Clear Creek Ranch, a classic dude ranch located near the base of Mt. Mitchell, highest peak east of the Rockies.  Sean and Heather Busher were looking to relocate from their urban lifestyle and open up a retreat center that would bring folks back to the great outdoors.  I write today as a follow up to let you know they have succeeded in reopening the property as the Mount Mitchell Eco Retreat.
When they acquired Clear Creek Ranch, the property had not been operated commercially for guests in several years.  The property featured four large lodges with numerous guest suites, a large primary lodge for dining and other support buildings.  It was being maintained on a shoestring budget and as a result, weather, age and such had taken its toll on the grounds and buildings.  It presented a major undertaking for this young family.
After acquiring the property in late November, 2020, they embarked on a major overhaul and clean up operation.  Today the Mount Mitchell Eco Retreat is open for business and welcoming guests!  Being familiar with the "before" and now the "after", I can personally say this has been an amazing transformation, and I'm very pleased to have played a part in bringing buyer and seller together.  If you're looking for a mountain getaway, take a look at their updated accommodations here.  I hope such a success story will be an inspiration for you whatever your goals.  If they involve creating a family retreat or eco resort like the Busher's let me know as we just recently listed the former Randall Glenn Cove Resort near Asheville.  Could you be the next success story?