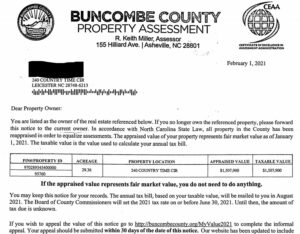 Today, nearly everyone looking for real estate starts the search online.  Additionally, several new limited service firms have popped up that promote listing property without the aid of a real estate agent.  The pitch is that real estate agents don't earn what they're paid.  Sounds reasonable on the surface, and perhaps for the most simple of transactions, these limited listing services can provide sufficient help to a seller or buyer at a discounted rate.  However, after 30+ years I can say there are very few transactions that are simple.
Last year, I was the listing agent for a 90 acre property.  Had a purchase contract on it plus a backup contract.  When the initial contract fell through, the back up offer stepped in at $900,000.  These buyers applied for a loan but when the appraisal came in, the appraiser only valued the property at $752,000 or $148,000 less than the contract price.  This was serious business as it was going to cost my seller $148,000 of real dollars!  So I drafted a nine page appeal to the lender and was successful in establishing the value as the contract price.
Also in 2020, I kept a deal alive for nine months after it was discovered that the seller of the property my buyer clients were purchasing had unwittingly sold off a portion of his property that contained the spring and septic system.  This came as a surprise to the listing agent.  I spent months researching the land records, surveys, and negotiating with the neighbor, seller and my buyer clients.  Basically, I was doing the work of the listing agent on his seller's behalf.  In the end, I was able to coordinate the installation of a new system and located a spring up on the mountain for a new water supply, allowing the sale to take place.
More recently, I was contacted by buyer clients from more than two years ago after the county property reevaluation notices came out.  Two years ago, they paid around $780,000, yet the county reassessed their value in January at $1.5 million!  We know we're in a bull market, but not that much bull!  There was no justification for such an increase.  So I prepared an in depth analysis of comparable properties and description of the property to the point that in March of this year, the county backed off and adjusted its value estimate to $857,000 which is much more in keeping with the market.  My clients' property tax bill went from $10,236 to $5,810, a savings of $4,426.  Therefore, over the next four years (values are reassessed every four years), this family will save $17,704.  These on line, self-serve real estate listing firms would never be able to provide this type of service.
So next time you're thinking of selling and wanting to save a few dollars, think long and hard before engaging one of these limited real estate services.  They just can't provide the same level of service as an experienced agent.  Call us today and we'll be glad to discuss how we can help you through the process.