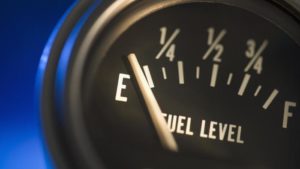 In prior posts we've described the need for a low profile, low density, distance from town and having a water supply.  Today we hit on the very simple, yet important aspect of proximity to your primary place of residence.
For most of us, we can't live at our retreat or survival property location.  We are employed and likely have jobs in urban or suburban areas such as Charlotte or Atlanta.  We simply can't pull up stakes that easily and disrupt our career and family life.  However, some of us have the wherewithal to have a second property in the mountains to use as a retreat.  But getting to that retreat during a crisis is of most importance because what good will it do you if you can't get there?  In such a case,  you'll have conveniently prepared a survival property for looters or squatters.
Therefore, it is recommended that your survival property be located easily within a tank of gas of your primary home.  In fact, I'd recommend that it be within a half tank of gas because after all, how many of us keep our gas tanks topped off at all times?  In the event of a grid down situation, the gas stations will stop pumping gas and you'll only get so far as the gas in your tank allows.  Perhaps you keep some gas or diesel at your home (I do), and that will help you reach your destination.  Regardless, when choosing a retreat property, I suggest being within a two to three hour drive of home.  That way, when the balloon goes up, you can reach safety fairly quickly.  Remember that in such a case, roadways could quickly become congested, so the less miles you have to travel, the better.
This is one reason for considering property in the mountains of western North Carolina.  If you live in Raleigh, Greensboro, Charlotte, Greenville-Spartanburg, or Columbia, our neck of the woods makes the perfect place to retreat to.  Retreat Realty is based in Black Mountain located just outside Asheville, so we know the local landscape and are here to help you in your search.