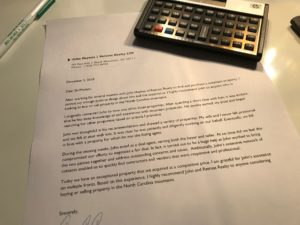 Its always rewarding to get a very nice letter of reference.  For those of you who have met me to look at property, many of you have seen the three ring binder I carry with me that contains dozens of letters of reference.  Its a nice thing to show prospective clients to establish my credentials, but it is also an encouragement to me when I have a down day.  I recently received another such letter from the buyer of the Spruce Pine property that recently closed.  In that transaction, I served as a Dual Agent, representing both buyer and seller as happens in about 30% of my transactions.  Here are some excerpts addressed to "Sir/Madam" from client Craig Craze:
"…After spending a short time with him, it was evident that he has deep knowledge of and experience with mountain properties.  He quickly earned my trust and began searching for other properties based on criteria I provided……My wife and I never felt pressured and we felt at ease with him.  It was clear he was patiently and diligently working on our behalf……John acted as a dual agent, serving both the buyer and seller.  At no time did we feel this compromised our efforts to negotiate a fair deal.  In fact, it turned out to be a huge help as John worked to bring the two parties together….Additionally, John's extensive network of contacts enabled us to quickly find contractors and vendors that were responsive and professional…..I highly recommend John and Retreat Realty to anyone considering buying or selling property in the North Carolina mountains."
If you'd like to see the full letter, I'd be glad to send a PDF with signature of the client.  Click here to read other reference letters from our website.  I appreciate the kind words and hope I can add such a letter from you after a successful sale or purchase.  Call today to discuss your mountain real estate needs.