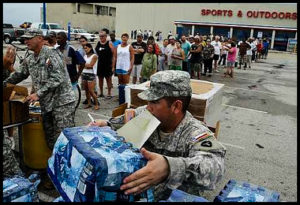 If you're like most people, you get your drinking water from a public water system.  That's great when the system is working, but as residents of towns along the Missisippi and Missouri Rivers are currently experiencing, when their water plants were inundated with flood waters, the critical importance of safe water came to light.  In the event of an extended power outage, what would you do for drinking water?
We've seen images of disaster relief teams handing out bottled water and the National Guard setting up large water tanker trucks, but those provisions are limited at best and standing around in a line of emotionally charged, impatient disaster victims isn't necessarily where I'd want to be.  I simply don't want to be that dependent on government aid.  I'd rather have my own water source.
Of course you can stock up on bottled water, which is recommended.  But that will eventually run out.  If you have a stream or pond nearby, you can get water from those sources, or from a rain barrel collecting rainwater.  But you still must purify that water before cooking and drinking.  I own a Big Berkey Light water filter.  With its four carbon filters, it can purify up to 24,000 gallons.  It is so effective that it will remove every known pathogen.  Its even effective enough to remove food coloring from water!  The only drawback I've experienced is that its a very slow process as the water drips via gravity through the filters and it takes up a good bit of counter space.
An alternate consideration is the Lifesaver Systems lightweight hand pumped water filter system.  Its truly astonishing.  It does all that the Big Berkey does, yet in a compact package and its much, much faster at producing clean water.  For an amazing demonstration, click here to watch a video as a tester contaminates an aquarium full of water with fresh cow droppings, chicken droppings, and pond water, then scoops out the concoction with the Lifesaver Filter, and in seconds drinks clean water straight from the filter!
The Lifesaver system also comes in a larger five gallon system with which you can pressurize the tank to which you can attach a shower head and have clean bathing water.  Either of these systems should be a part of your preparation equipment.  For when the water goes out, you'll be glad you have one.