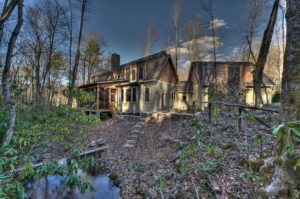 A retreat or homestead property is often referred to as a "survival property" or a "prepper property", but it is more than just 50 acres on a mountainside occupied by Grizzly Adams. It can be a luxurious home that is off the beaten path or it may be a rustic homestead that is totally off the grid for someone who wishes to live a more sustainable lifestyle. It should fit your lifestyle and family needs as much as possible, yet provide a level of security and independence that is greater than where you live now. Here are the basic criteria for properties marketed by Retreat Realty. Not every property will have every feature, but having a majority of these makes for a better retreat:
At least five acres of land to provide you privacy and room to roam.
Should be well outside the town limits of any sizable metropolitan area to avoid the movement of a large population that could become refugees.
Should have its own water source, either surface stream, springs, well and/or pond for storage. This is a must.
Should have a private septic system or other method of waste disposal. This is a must.
Should have a fuel source on the property such as a stand of timber, hydro, wind or large fuel tank.
Should have a modest amount of land available for the cultivation of vegetables and crops or livestock.
Should be "off the beaten path", meaning not within view of or close to a major thoroughfare.
Should not be encumbered by covenants and restrictions of a Property Owners Association, and should be relatively free of burdensome county zoning ordinances.
Should be within one tank of gas from your primary residence.
There are many other criteria to consider, all of which we can explain during your assessment. You can start out small and grow into it later. Or you can jump right in and set up a major family compound on Day One. Call us to discuss your specific need and we'll help you along through the evaluation so that you can find the right place for you. Once you've found your spot, we can assist you further with our knowledge of design, land use and preparedness procedures. Don't go it alone. Go with Retreat Realty.