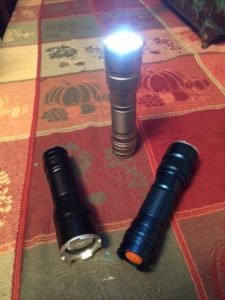 Manfred Mann's Earth Band had a top 100 hit song, "Blinded by the Light" in 1977 (although it was originally written by Bruce Springsteen in 73).  Great tune with some forever confused lyrics.  However, if you want to really be blinded by the light, yet not revert to 1970's disco, you should check out the TASCO XR6 flashlight.
Every household, and especially bugout or retreat property, needs numerous flashlights.  Its hard to have too many, since so often they go AWOL, just when you need one.  So I keep them throughout the house in various easy to access locations.  Recently I purchased a set of three TASCO XR6 flashlights at Sam's Club for just $19,95.  Upon trying them I was thoroughly and pleasantly surprised at the quality, intensity of light and the various settings and capabilities.
They are made of tough aluminum, are shockproof, water resistant (not waterproof), and compact enough to fit in a purse or pocket.  They have three illumination modes (1) high intensity illumination; (2) low intensity illumination and; (3) strobe.  The high intensity is really high powered and can blind you if not careful.  The strobe function is even more intense and disorienting in a defensive capacity.  Point it in an attacker's face and you've bought yourself the opportunity to escape.
The 50,000 hour life LED bulb is encased in a fisheye shaped lens with an adjustable focus beam.  This means that the light beam can be adjusted from a very wide angle of coverage to a narrow spotlight beam.  The bulb puts out over 250 lumens (candlepower), allowing you to see very long distances or if you open it up to wide beam mode and set it on the floor, it will illuminate a large room with enough light by which to read a good survival novel such as "One Second After".  It can even be attached to a lanyard so you won't lose it.
What has this to do with mountain real estate?  We at Retreat Realty don't just help you find the perfect western North Carolina mountain property or off the grid property, we help you set it up for optimal use.  So if you're looking for a bugout property by which to escape the craziness of the world, a good set of flashlights is indispensable.  The TASCO XR6 is an inexpensive option that provides excellent service.