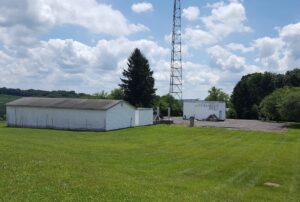 If you're in the market for a former government command bunker for sale, look no further!  I was contacted earlier today by the owner of this facility located in rural Ohio.  (NOTE: Retreat Realty, Ltd., is not licensed in the state of Ohio, but I'm providing this post as a favor to the owner.  All inquiries will be sent directly to him.  Retreat Realty, Ltd. cannot represent buyers/sellers in Ohio.)
This is the complete package with two stories of underground living and working areas totaling 6,000 square feet.  Its a nuclear blast hardened, EMP proof underground communications facility complete with blast doors, pressurized interior ventilation, water and sewage facilities, radio mast, above ground equipment and workshop spaces, etc.  Includes multiple generators, fuel and water storage, 1,000 amp electrical service and a 200kw gas generator, 3-ton hoist.  Its all situated on 5.6 pristine gently rolling acres amidst rural Ohio cornfields.  Its like something out of a movie, only this one is real and could be yours.  Asking just $980,000.  I can only imagine its true cost when built in 1972 and what it would cost to replace it today.  The property is ready for your personalized touches to transform it from its utilitarian design to one for underground living.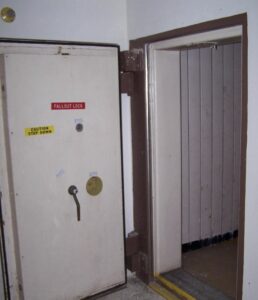 Most often when we hear of underground bunkers, we think of old missile silos.  Those are certainly unique, but they are often environmental cleanup nightmares due to the caustic chemicals used in the operation and maintenance of ballistic missiles.  Not the case here.  This was a communications facility and not a nuclear or hazardous waste storage facility.  Its pretty clean and ready to go.  Call us today for details and a referral directly to the owner/seller.