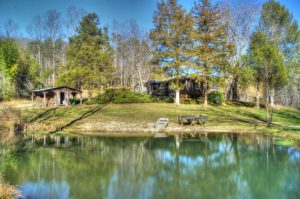 Today a friend of mine alerted me that on the afternoon broadcast of "All Things Considered" an NPR broadcast on Survival Real Estate would be aired.  I hurriedly turned on my Bose Wave Radio and waited.  Sure enough, along came NPR reporter Kirk Seigler with a very interesting report from Missoula, Montana featuring REALTOR Theresa Mondale.
In the story, Mondale takes Seigler on a tour of a survival property in the northwest and explains what a survival property is and who's buying them.  Basically, it is what Retreat Realty has been offering since its inception, only more often on a smaller scale.  Out in Montana, people are buying 1,000 acre plus ranches whereas around here, a North Carolina survival property may be 40 to 200 acres.  But the features remain the same (1) live water such as streams and springs, (2) seclusion away from major thoroughfares, (3) natural resources for growing crops and raising livestock, (4) defensible.
In the past month, another friend forwarded an article about folks in major metro areas buying up entire luxury bunkers around the world in anticipation of major civil unrest.  The point is, people in the know are noticing and making plans.  Perhaps you should as well.  If you live in a major urban area such as Charlotte, Greensboro, Greenville, etc., you should consider having a North Carolina Mountain survival property or bug out property up here.  Call us today to start the discussion.  Its more mainstream than you think.