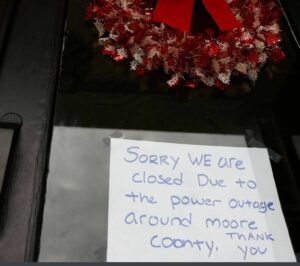 As of this writing much of Moore County, North Carolina is without electricity.  The temperature at the moment is hovering around thirty degrees.  An estimated 30,000 people are without power in their homes, their businesses, their schools, gas stations, grocery stores and such.  Read the story from WRAL here.  The cause is known, but the ability to get power restored is another matter.  This is one more example of how fragile our power grid has become through the years.
This outage includes the local towns of Aberdeen, Southern Pines and Pinehurst.  Pinehurst has been the site of two US Open Championships for both the PGA and LPGA in recent years.  It was formerly home to the Golf World Hall of Fame and is known around the world as one of the finest golf destiations on the planet having dozens of high end golf courses.  This is a low density, rural area but one that is quite sophsticated all the same.
More than 48 hours later, power has only been restored to a few thousand residents and the county sherrif has declared a nighttime curfew to prevent looting and other criminal activity.  The county administration declared a state of emergency and shelters have been set up to help those who are suffering in the cold.  Initially Duke Energy stated power would be restored by Sunday evening, but as of Monday night, Duke is now saying it could be Thursday before power is fully restored.  Why the delay?
This wasn't an outage caused by a windstorm, ice storm or some other natural element.  It was created when an unknown person or persons fired shots at two Duke Energy electrical substations.  Local and federal authorities are calling this a case of domestic terrorism, and for good reason.  Someone intentionally attempted (and succeeded) in shutting down the local power grid.  The sleepy towns of Moore County don't suffer from high crime or gangs, and as a result, there hasn't been any reported looting or vandalism.  But imagine if this had been Chicago or New York City.  Short term outages in these cities in the past have resulted in major violent looting; for example in NYC in 1977.  You can watch the ABC News special bulletin about NYC here.  That outage lasted just a little more than 25 hours, but widespread looting took place in the city.
Then imagine if this had involved numerous substations in the region that are linked together.  A study published by Homeland Security and FEMA in 2018 determined that if just nine specific substations in the country were brought down at once, the entire power grid of the United States could catastrophically go down.  You can read the entire 92 page report by clicking here.  "So just install replacement parts.", you say?  Not so fast.  The larger components used at these step down stations are huge, heavy, complex and not many replacements exist.  They aren't in short supply due to recent supply chain issues, but have always been in short supply.  Most of the larger components are manufactured overseas and utility companies such as Duke Energy don't keep warehouses of these things in stock. That is why Duke is telling folks it could be Thursday, a full five days before power is fully restored.
But this isn't the first time such an attack has occured here in the U.S.  On April 16, 2013 gunmen opened fire on a substation of PG&E in northern California.  Read the report here on NPR.  It was later disclosed that had engineers not immediately reacted and diverted the flow of electricity, it could have created a domino effect, sending the entire west coast into the dark.  Imagine.  A lone gunman or gunmen, who today are still at large could have cut the power to tens of millions.  A few thousand dollars of firearms and ammo took out millions of dollars worth of sophisticated power equipment  and could easily have taken down an economy of billions.
Folks, I've written for years about the frailty of our power grid.  Congress has held committee hearings on it.  FEMA and other government agencies have recommended changes.  Countless reports have been published.  The power companies have largely downplayed it though they know it is a great risk. Everyone has been hestiant to do anything for a variety of reasons, but largely that to protect the grid sufficiently could cost hundreds of billions.  Therefore, we live in denial hoping it doesn't happen in our lifetimes.  But as the saying goes, it isn't a matter of if, but when this sort of thing happens.  Well, it happened here in North Carolina on a small scale (but not small to those going into a third day without power), and what's to prevent it from happening in your home town?  Therefore, be prepared.  Have a plan.