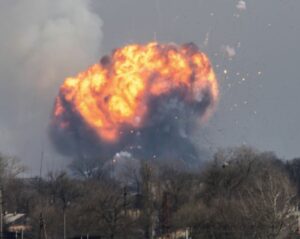 Just when it appeared we were through the pandemic and returning to the "new normal", whatever that is, we're now witnessing atrocities in Eastern Europe involving a nuclear superpower that is threating to actually use nuclear weapons.  My wife asked "What do they want with Ukraine anyway?"  I ask the same thing.
Regardless, here we are with supply chain disruptions continuing to grow, more and more store shelves being cleaned out, fuel prices approaching record levels, interest rates rising and inflation at record pace, and now a war in Europe.  We aren't stressed because we've been preparing for this sort of thing for years.  Many of our clients have likewise been planning for this sort or scenario and have purchased properties here in the western NC mountains as a backup plan.  My phone is ringing and email inbox getting filled up with folks looking for a bugout property just in case.
Many of them look at it as an investment diversification, moving out of stocks and cash into real estate.  Some see it as an opportunity to purchase a family playground here in the mountains.  But they often have an eye toward the unknown future, thinking that if the world goes to pieces and they must flee the cities, they'll have a place to go to.  The lockdowns in early 2020 started a lot of people to thinking that way.
So call us if you're considering a place up here in western North Carolina.  We have several new listings getting ready to come to market including a 65 acre farm with eleven acres of pasture, end of the road privacy and adjoining USFS lands ($499k).  Another is a 231 acre property about 40 minutes north of Asheville with total isolation up a narrow, private gravel road that says "Keep Out" to anyone who shouldn't be up there ($599k).  Then there are others in our current inventory such as this 245 acres at the top of the Blue Ridge Escarpment at Little Switzerland.  So call us today to discuss how we can help you find that perfect place to ride out the perfect storm.