From all that's going on in the world, now is the time to buy a bug out property.   Never have we seen more uncertainty on all fronts, and as a result folks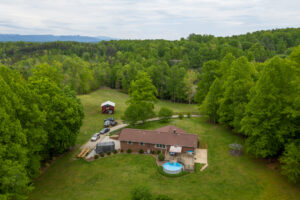 are looking for bug out properties here in the mountains of western North Carolina.  I wouldn't say the phone is "ringing off the hook", but its definitely been on an upward trend of late and we've been closing numerous properties.  Unfortunately, inventory is a little low so property searches require more effort.  However, we still have some outstanding properties and a few that are soon coming to market.
One excellent property is this 40+/- homestead located south of Marion, NC featuring a stocked pond, year round creek, pasture, shooting range, woodlands, privacy and an exceptionally well maintained brick ranch over a full basement.  Comes with an above ground pool and a phenomenal garden area.
For those looking for a more established multi-family compound look no further than our Tranquility Ridge listing located about 50 minutes northeast of Greensboro in very rural Caswell County.  This is a totally inclusive prepper camp or bug out property complete with eight cabins, community center, pond, shooting range, underground bunker, etc.  It is the "total package" and priced at just $599,900 including ALL personal equipment.
If we don't have the property, we may know of others who do and we'd be glad to help you as your Buyer's Agent in locating the right property.  Call or email us today and lets get started on your search for the perfect mountain retreat.  There's nothing like having the peace of mind during times of unrest.