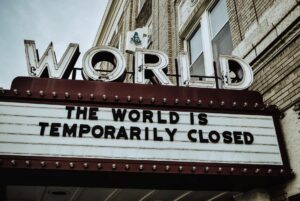 Is now the time to finally get that mountain retreat?   Regardless of your ideology, there is great uncertainty in our world (COVID-19 restrictions, civil unrest, cities burning, North and South Korea at the most threatening they've been since the 50's, a stock market that is schizophrenic, calls by major players to "reset the world economy").  Over the past months, we've had many calls from folks saying, "We'd been talking about having a bugout property in the mountains for years, and now we see the need."   The pressure on our every day lives has finally reached the point for many to finally take action to prepare.  Prepare for what?
I've written many times that we live on a razor's edge of civility and take away a few underpinnings (most often referencing to a breakdown of our power grid or a cyber attack on our banking system), and society will be in shambles.  Well, those two things haven't happened yet, but we find our society rapidly coming apart due to other stresses.  So what can you do to provide for your family?  Not everyone has the ability to pick up and move, or the financial means to do so.  But there are things you can do right where you live, and joining Preppernet.com is one thing you can do through which you can learn some things that can help you right where you live.
But for those who do have the ability to relocate and have the financial wherewithal, then call us so we can help you find that ideal prepper property here in the mountains of western North Carolina.  It doesn't require a million dollar budget, nor does it mean you have to "rough it" in a spartan log cabin in the woods.  Most of our listings feature very comfortable homes on mid to large sized acreage that can be enjoyed as a vacation spot when times are good, and a safe haven when times are not.  Right now, there seems to be a lot more of the latter than former.  Now is the time to plan, and as Ben Franklin said, "Failure to plan is a plan to fail."  Call us today so that we can help you find the right place, and then sleep peacefully.