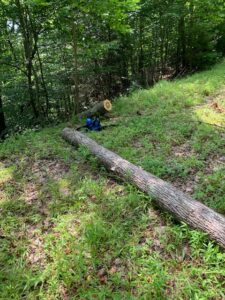 Full service, that's what I'm about.  There's a public perception that all real estate agents do is drive people around, walking through a few houses, then collecting a big ol' commission for not doing much of anything.  Well, 99% of the time, that's not accurate.  There are a lot of moving parts in getting to the closing table, and agents take on a great deal of personal and professional liability in the course of their work.  Aside from these normal things, here a few of the recent services I provided clients.
I recently had a property under contract for $900k.  It was a complicated property and the appraisal came back at $752,000.  With a few keystrokes, the appraiser caused my seller client to lose $148,000 of his retirement equity.  Being a former MAI trained appraiser myself, this burned me up because this appraiser was simply out of his element and shouldn't have been assigned the task.  So I spent hours preparing a nine page rebuttal.  You must understand that disputing an appraisal is difficult and often results in both the appraiser and lender being insulted that their opinion should be challenged.  Regardless, in this instance, the loan underwriter agreed with my review and the loan was processed at the contract price.  (think I earned my fee?)
Sometimes, my special service isn't that complicated, but as straightforward as removing a downed tree on a driveway.  I have a listing in rural Madison County and on three occasions, I've had to cut a tree that had fallen across the 1/3 mile driveway.  (see photo)  This last time, it was a ten inch poplar and I had to cut out an entire section because the tree was so heavy that it couldn't simply be split and pushed aside.  By the time my showing clients arrived, I was drenched in sweat, but rather than walking up to the property, we were able to drive.
Finally, the most involved was on behalf of buyer clients which took months of painstaking effort to resolve.  The seller, in a prior sale had unknowingly sold land on which his septic system and water supply were located without retaining rights to them!  The adjoining neighbor was unaware of this (as were the seller's listing agents) and when I discovered the situation and informed the neighbor, he became difficult.  I spent many 90 minute one way drives to this property, pulling measurements, shooting video and laying out maps to negotiate a solution with all three parties.  The end result was that I oversaw the installation of a new septic and water supply (spring) for the seller who wasn't even my client!  For good measure, this was one of my smaller transactions, thus the amount of hours I invested yielded less than normal.  Regardless, I was glad to do it as the seller truly was unaware of his mistake and was hurting from it, and my buyer clients simply had to have this resolved.
So, next time you hear someone say real estate agents aren't worth their fee, rest assured that an experienced agent such as myself can often get you out of a serious bind or keep you from making a serious mistake.  Had the seller above engaged an agent in his prior sale (rather than doing it himself, which is what he did), he would have been advised to retain septic and water rights, and it would have saved him thousands and he'd have closed six months sooner.  Lesson learned.  So please allow me to help you in your listing or buying of mountain property here in western North Carolina.  Do it yourself through some of these new online services that cut out agents and you may find yourself in a bind like the above seller.  You truly do "get what you pay for".