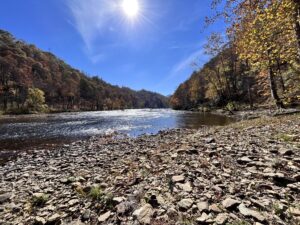 We just recently listed three unique properties on and overlooking the Nolichucky River.  The Nolichucky is a very prominent river that is formed in northern Mitchell and Yancey Counties from the confluence of the N. Toe and Cane Rivers.  The result is a large river of 200 to 250 feet in width that flows from North Carolina in to Tennesse.  It is well known for trout fishing and rafting.  These properties are the last privately owned properties before entering the Nolichucky River Gorge.
One parcel comprises 42 acres and includes its own six acre island.  That's right, it has its own island.  This property has more than 2,000′ of frontage on the river.  Then sitting up above the river is the old homestead that has been there nearly 100 years.  This is a farm house along with barns and other farm related buildings overlooking the river.  There are several acres of gently laying fields around the house that at one time were in pasture and gardens.  This property is completely at the end of the road and accessed only from a Forest Service Road.  Speaking of Forest Service, the back property line of this property is 2,300′ of shared line with USFS lands.  Click here to read more and to see photos.
Another parcel is a 61 acre woodland tract that sits above the river as well.  It features exceptionally gently laying land on which to build.  From up above, one will have excellent mountain views as well as a view down to the river.  Imagine falling asleep to the sounds of the river below.  If you want to dip your toes into the river, it is just steps away.  No concern of anyone building right up behind you because again, like the property above, the rear line is that of US Forest Service land.  Click here for more information.
Finally, the third property is a 38 acre parcel of woodlands with a creek and several very good building sites.  It too is accessed only after passing through a locked gate at the end of the same Forest Service road.  Within this property is a broad knoll of very gently laying land that provides a 360 degree view of the mountains.  From this property one can walk down to the river's edge with deeded access via an existing right-of-way.
So if you're looking for a remote getaway that has great river access, call for more information.