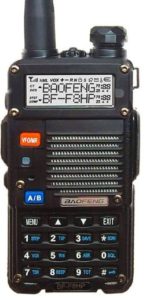 For communicating a reasonable distance with a great many features and reasonable price, the Baofeng BF-F8HP is a great choice.  Sure, you can buy "walkie-talkies" at Walmart, or even pretty good ones at Bass Pro Shops, but for great communications, nothing beats a handheld HAM radio like the Baofeng.
I've tested this radio transceiver in my area of western North Carolina and found its range to be at least four miles when I used an extended range antennae.  That's handheld unit to handheld unit without using a repeater station.  The radio is compact, rugged, and is reasonably priced.  It has the ability to scan emergency frequencies, is programmable by computer in which you can preset dozens of frequencies, has an FM radio function and had a handy LED light on it.
I'm not a radio geek, but with a little practice, this transceiver is great for general use.  Its even suitable for the more serious technician.  As a footnote: to use a HAM radio repeater station without a license is illegal.  However, in an emergency in which life or property are in imminent danger, non-licensed individuals can use a HAM radio repeater station.  But for communicating directly from one handheld to another handheld, FCC rules allow non-licensed operators to do that.  Therefore, if you have friends across town and need to stay in touch, the Baofeng BF-F8HP is a great choice.